After 20 years of practice in Brittany and four years in Vallauris, the workshop opened its doors in 2016, at the heart of Théoule-sur-Mer.
Jean-Michel Bonhert used to be a trained surveyor in his early 20s but then chose to became trained to the profession of master glassmaker of the school of Nancy in the 80's. He never stoped since.
Custodian of a rare know-how, the master glassmaker is an artist and confirmed craftsman that perpetuates a thousand years of know-how.
We craft all our pieces by hand, from top to bottom. This implies all the steps, from the drawing to the final set up, including glass cutting and soldering.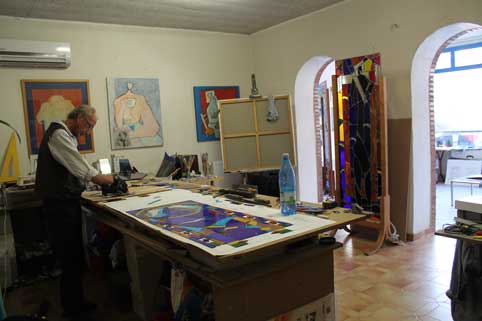 The workshop aim:
We offer our services to several audiences. For example, local authorities or individuals with a project of creation or restoration.
In addition, we do not just create and restore. Indeed, we pass on our passion and know-how at conferences. They go from the origins of glass to the first stained glass windows.
The workshop is open to the public all year, feel free to come in.